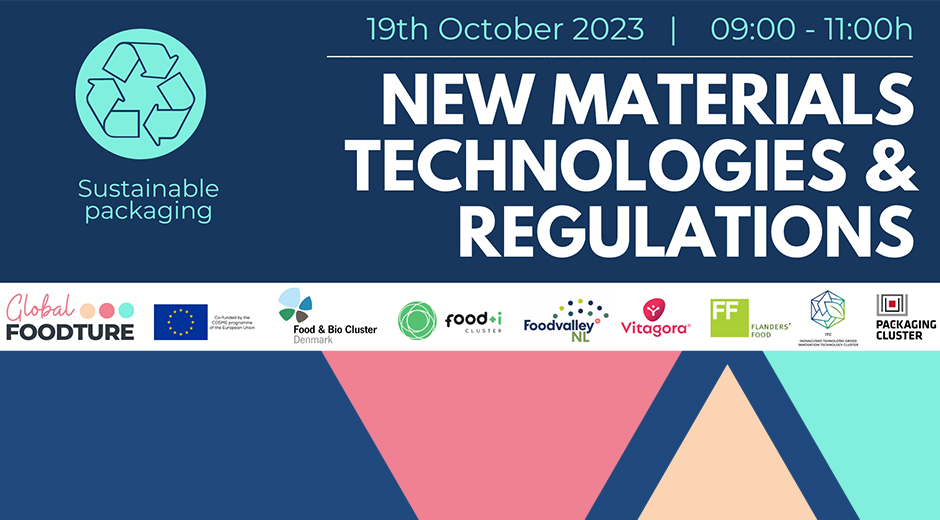 19. oktober 2023
Theme: Sustainable packaging
Packaging must serve critical functions including protection, preservation, distribution and advertising. Food packaging represents more than 66% of total packaging produced. For this reason, its sustainability cannot be measured only by its biodegradability. The resources needed for its development, such as the distance its weight must travel or the recyclable nature of its material, should be taken into account. Plant -based plastics, compostable materials, biomass, edible wrapping, etc. What are the most innovative and sustainable solutions in food packaging?
TOPICS TO BE COVERED
Advanced bioplastics for food and consumer
preferences towards sustainable packaging solutions
Sustainable packaging for future
Food packaging regulations
The programme is coming soon.

Global Foodture is so much more than online workshops. You can also participate in online training on the four Asian focus countries (Japan, Singapore, South Korea and Thailand). Global Foodture will prepare you for two company missions: 1) Thailand 21-24 May, 2023 and 2) Singapore in November 2023. At last but not least, you can meet potential collaboration partners online during the entire time or during the 4 dedicated matchmaking events. Curious and interested, please read more and register at the below link or contact Susanne Baden Jørgensen at sbj@foodbiocluster.dk
Webinar
---
Sted
Please register at https://globalfoodture.b2match.io/
Pris
Gratis / Free
Fra
19. oktober 2023 kl. 09:00
Til
19. oktober 2023 kl. 11:00
Kontakt
Susanne Baden Jørgensen*
+45 25210812