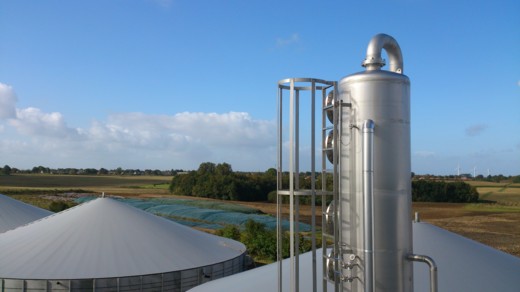 03. oktober 2022
This summit will highlight how biogas has great potential when it comes to exploiting the potential of managing organic waste in a sustainable way, reducing climate impact and CO2 emissions.

The summit will include presentations from Danish government officials highlighting how policy can drive sustainable biogas production – and how lessons learned from Denmark can help advance the biogas sector globally.

Additionally, presenters from the industry and academia will dive into biogas' role in other sectors and power-to-x.

Lastly, we will welcome speakers from the United States, Canada, the Netherlands and other European countries to share their insights on the future of biogas globally. By sharing insights across borders, our aim is to increase cooperation, and biogas production globally.

Program
Moderator: Claus Mortensen, Director - Biogas Go Global
08:45-09.15: Registration, Coffee & Croissants.

09.15-09.30: Welcome to the Danish Energy Agency. Martin Hansen, Deputy Director General – Danish Energy Agency

09.30-10.00: The Danish biogas boom – and the sometimes neglected importance of non-energy related benefit of biogas. Bruno Sander Nielsen, COO in Biogas Denmark

10.00-10.30: How policy can drive sustainable biogas production: Lessons learned from Denmark. Lise Skovgaard, Special Advisor, The Danish Energy Agency

10.30-11.00: Networking session: Meet your peers.

11.00-11.30: Sustainability in Biogas production – the Danish regulatory perspective, Henriette Louise Baumann, advisor at the Danish Energy Agency.
11.30-12.00: Setting the scene: How biogas can deliver 50% of the Global Methane Pledge targets. Charlotte Morton OBE, Chief Executive Officer in World Biogas Association

12.00-12.45: Networking lunch.

12.45-01.45: How can policy drive expansion of sustainable biomethane production; Challengers & opportunities in the United States, Canada and the Netherlands.
• Dinand Drankier, Program Manager, Ministry of Economic Affairs and Climate in the Netherlands
• Cory Ann Wind, Oregon Clean Fuels Program Manager/Nicole Singh, Senior Climate Change Policy Advisor, Oregon Department of Environmental Quality
• Eamonn McGuinty, Advisor to the Minister of Environment and Climate, Governement of Canada

01.45-02.00: Coffee break.

02.00-03.30: Biogas synergies across sectors: Panel discussion on power-to-x.
• Niels Franck, Senior Engineer in Energinet - the Danish TSO
• Thorkil Dahlgreen, CEO in BiogasClean
• Christian Dannesboe, Principal Scientist in Topsoe

03.30-04.30: Finale remarks, refreshments and networking with biogas stakeholders from several different countries.

For questions, please reach out to Claus Mortensen, Director of Biogas Go Global. cm@foodbiocluster.dk / +45 4030 4820



Konference
---
Sted
The Danish Energy Agency - Energistyrelsen, Carsten Niebuhrs Gade 43, 1577 København, Danmark
Pris
Gratis / Free
Fra
03. oktober 2022 kl. 08:45
Til
03. oktober 2022 kl. 16:30
Kontakt
Claus Mortensen
+45 40304820