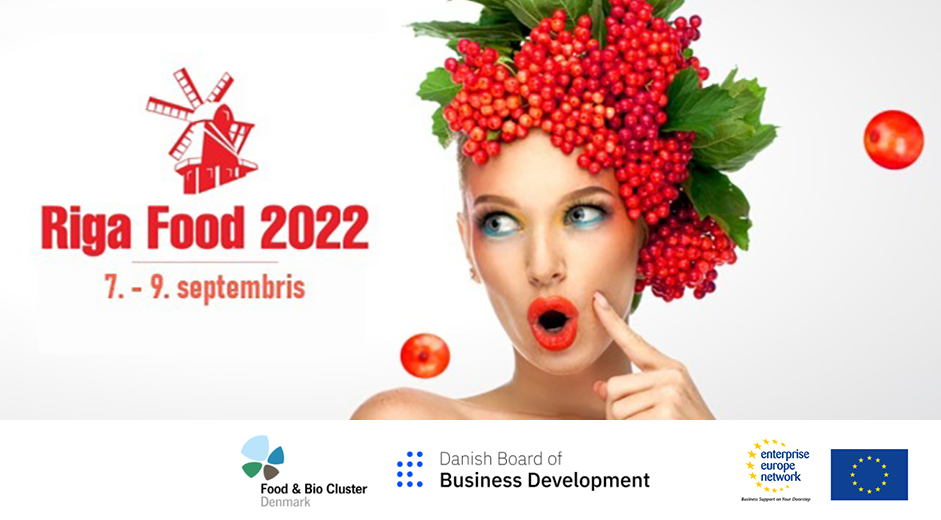 07. september 2022
As a partner in Enterprise Europe Network, Food & Bio Cluster Denmark would like to provide our members with international cooperation and business possibilities. In the rapidly changing world, it is important to keep your options open. The Baltic states are interesting markets, so here is an interesting opportunity for your company either online or on-site. Read more here and register here.
Riga Food 2022 is the matchmaking event at trade fair and is an international platform that connects companies looking for production partners with manufacturers, service providers and suppliers within the food industry. It gives you a possibility to research the latest trends in food industry, giving an insight of technological development and new products.
Why to participate?

You will find new sales markets for your products as it also helps plan your business modernization;

Discuss and access new technology and innovative solutions;

Share your experience with international business contacts;
Keep an eye on market trends.
Who should attend the matchmaking event?
Small and medium-sized enterprises, offering or requesting new products and technologies;
Researchers/developers of innovative technologies in food industry.
Register today and find your potential business partner!

About Riga Food – Major Baltic Food Industry Event!

The biggest in the Baltics food industry fair "Riga Food" yearly outlines the trends of the food industry development, highlights novelties and presents a number of enterprises. Everybody is welcome to Kipsala International Exhibition Centre to draw inspiration from diversity of menu ideas, to taste new products, to watch and enjoy professional chef, pastry cook and bartender competitions. Moreover, we invite professionals to "Riga Food" to derive ideas, knowledge and information allowing further professional and business development.
Exhibition
Participants – 300 companies from 15 countries, 6 national collective stands. Visitors – gourmets and food specialists from the whole world.
Innovation
Ideas and solutions on healthy and organic food at seminars and innovation stand.
Competitions
Outstanding quality food competitions and tastings. Named the most beautiful honey, bread and dairy products

Participation is free of charge. However, a cancellation policy of EUR 150 will be applied for participants who cancel their participation after 7th of September or do not show up to their confirmed meetings, in order to maintain the quality of the event.


If you have any questions, please do not hesitate to contact Susanne Baden Jørgensen, sbj@foodbiocluster.dk