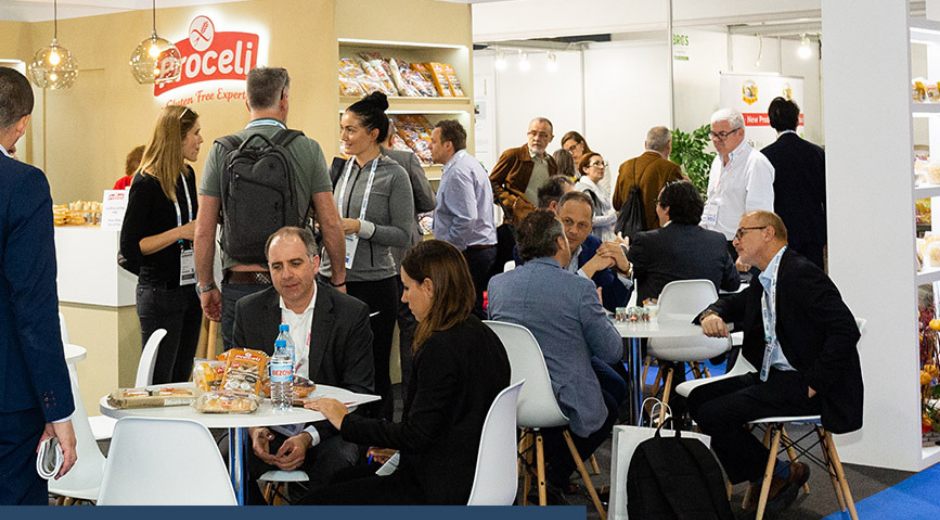 22. november 2021
Vegan, Plant-Based, Free From, Organic Functional and Healthy Lifestyle Food and Drinks Sustainable Packaging
Your company is invited to participate in the Innovation Tour to Amsterdam November 22-24, 2021. The Innovation Tour will focus on innovation and to establish Dutch and international contacts for possible cooperation including a number of relevant activities both at the visit to Foodvalley and at the activities at the food event.
We invite you to Europe's No 1 food event: "Free From Functional Food and Health Ingredients 2021" + "Sustainable Packaging" Amsterdam and to visit the Dutch cluster Foodvalley, November 22-24 2021. Please read more here.
Why should you participate?
We are offering you an inspiring programme during which you:
Visit the food event with 300 exhibitors from 35 countries, 45 top speakers and 8,000 food professionals visiting from 65 countries
Learn about new, trendy, innovative products, technologies at conferences with Danish speakers, workshops etc.
Gain new knowledge about the innovative cluster Foodvalley and meet their members
Participate in the 1:1 matchmaking event and meet your potential next cooperation partners
Participate informal networking
Participate in a networking reception
Participate in a joint dinner

DRAFT VISITING PROGRAMME

Sunday November 21
Possible arrival as we leave from Amsterdam to visit Foodvalley at 11.00 Monday.
Monday November 22
11:00-12:00
Visit to the cluster Foodvalley (in Wageningen) by bus
13:00-17:00
Welcome at Foodvalley NL by Jeroen Wouters.
The visit includes:
Welcome and introduction to Foodvalley NL, by Jeroen Wouters
Presentation on Unilever's activities and innovation activities by R&D Director Ecosystems Food and Refreshments 
A visit to StartLife by Loet Rammelsberg - A hub for agrifood startups – inspirational for Danish startups/companies
A visit and presentation at Food & Biobased Research (FBR) department of the Wageningen University & Research (WUR)
Informal networking with company members of Foodvalley o Pitch (brief introductions) and networking both Danish and Dutch participants

17:00-18:00
Return by bus to the hotel in Amsterdam
19:00
Joint dinner

Tueday and Wednesday November 23-24
Visit to the food event at RAI Exhibition and Congress Centre, Amsterdam - opening hours 10:00-17:00
The programme includes:
The Exhibition – guided tour/Innovation Tour
Conferences with Danish speaker, Insights and Workshops
Matchmaking Event
Networking reception on November 23 at 15:00

In celebration of: Farminging the Future together. 500 years after the first Dutch farmers settled near Copenhagen, the strong ties between the two countries are being celebrated. The year 2021 will mark the Netherlands as an innovative and high-tech partner to Denmark in the Agrifood and Horticultural sectors, focusing on solving global challenges together.
Further information and participation
To ensure your participation in the Innovation Tour, please register already now at this page. A separate registration for participating in the b2b matchmaking is needed, please register here.
For further information please contact Susanne Baden Jørgensen, Food & Bio Cluster Denmark, sbj@foodbiocluster.dk.
Travelling
You are to book and pay for your own transport to Amsterdam. For the bus to Foodvalley the costs are covered. 
Hotel
A limited number of rooms have been book at Motel One - 250 m from the RAI Exhibition and Conference Centre from Sunday 21-24. When registering, you will receive a reservation code.
Double room for one person Euro 98,57 including breakfast, city- and tourist taxes pr. night.
Double room for two persons Euro 134,36 including breakfast, city- and tourist taxes pr. night.
The Danish Pavilion 
For your information, the Danish company Market Select is organising a joint Danish stand at the event. There are already 18 companies exhibiting, if you would like to become a exhibitor, please contact helle@marketselect.dk
Innovationskraft
When you participate in this event, your time will be used as co-financing for the project Innovationskraft, which is co-funded by Danmarks Erhvervsfremmebestyrelse at a standard rate.